【インターンシップレポート】生物多様性条約第15回締約国会議(Ragini Sarmah)
2023年4月25日 13時59分
生命地球科学研究群 生物学学位プログラム Ragini Sarmah
Through my internship with IUCN-J, I had the very lucky and fruitful opportunity to attend the Conference of Parties (COP15), United Nations Biodiversity Conference hosted by the Convention on Biological Diversity in Montreal, Canada from December 2nd till December 20th. At COP15 I had the opportunity to meet amazing people from all over the world, with different backgrounds, who are working to restore harmony with nature. I was also able to interact with professionals who have dedicated their lives to preserving and enhancing biodiversity. This was especially important for me as I too want to do similar work in the future.
During the event, I was able to take notes on Contact Groups and Working Groups where negotiators from each country discussed each target set by the Global Biodiversity Framework. I gained a lot of insight into how political factors drive almost all aspects of life today, including nature and biodiversity. I also had the opportunity to hear people from many Indigenous peoples speak about our fundamental connection with nature. At COP15 I was inspired, challenged and educated!
After countless hours of research, debate and consultation between countries, the ambitious Kunming-Montreal Global Biodiversity Framework was adopted. As a Global Youth member, I also had the opportunity to voice my own opinion for the Indian National Media (Press Trust of India) through an interview about what youth expects from COP15 (https://theprint.in/world/our-future-our-voice-what-indias-youth-want-from-cop15-3/1266795/). This internship opportunity has positively impacted me and has also opened many doors for my future environmental career. I would recommend it to every young passionate environmentalist!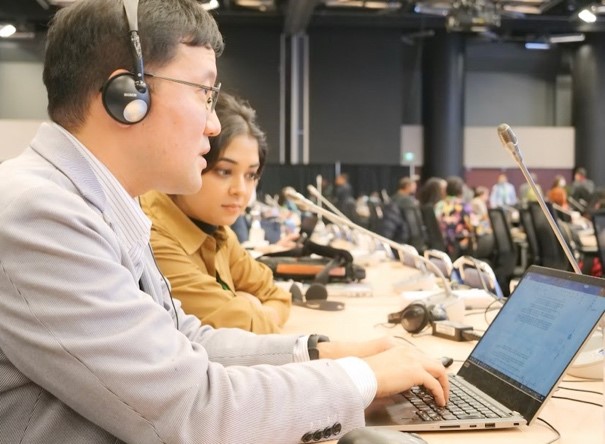 At the High-Level Segment with Mr. Teppei Dohke of IUCN-J who has guided me through the whole process
Photo: Kanako Ake (JWCS)