【インターンシップレポート】株式会社ピッキオ(Pangda Sopha Sushadi)
2022年3月8日 11時16分
生命地球科学研究群 生物資源科学学位プログラム Pangda Sopha Sushadi
I knew about wildlife conservation activities at Picchio, a non-profit conservation organization (NPO) in Karuizawa, from the videos they uploaded on Youtube. It turned out to be a valuable experience for my short internship in early October. I had the opportunity to be directly involved in the management of the conflict between humans and Japanese black bears (Ursus thibetanus) in Karuizawa, which is the main activity of this organization.

During my 7 days there, I learned several strategies to reduce bear invasions into residential areas, including management of trash bins and buffer zones. Picchio put radio transmitters on the bears around Karuizawa so they could be tracked by telemetry and monitored every night to make sure they were far enough from human settlements. No less than 30 bears were monitored in a single night, and I was blessed to be able to take part in one occasion, which although tiring but very rewarding. We also analyze fecal samples that are routinely collected from the forest to predict the black bear's feeding preferences in certain seasons.

Most memorable, of course, is the first-hand opportunity to meet and study Japanese black bears in its natural habitat. I had the opportunity to rescue a mis captured bear to be relocated and released to a safer place. We also collected some samples from the bear for further lab analysis, but of course all were done under anesthesia without hurting the bear. Not to forget the opportunity to directly observe bear winter's den and its behavior prior to hibernation, which is very useful for wildlife management and conservation, especially the Japanese black bear in Karuizawa.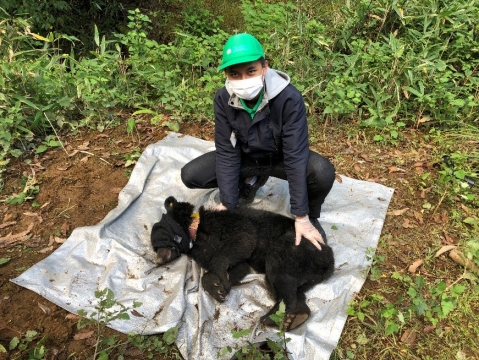 The photo is personal documentation. Credit to Picchio