【インターンシップレポート】株式会社ピッキオ(Mahanayakage Chamindha Anuruddha)
2023年4月25日 10時16分
生命地球科学研究群 地球科学学位プログラム Mahanayakage Chamindha Anuruddha
I came to the Picchio Wildlife Research Center to make a good contributions research work and I felt, I did my best. Also Center's contribution and support to me was great. So if you are now reading through and wondering whether you should do the internship, from my personal point of view, the answer is absolutely yes. In the very first day of the Center, it became my home and the people became my family members.
The Picchio Center was very peaceful and surrounding area was amazing with mountains, rivers and beautiful landscape. In this internship, I got chance to grab knowledge about amazing ecosystem, bears and research techniques and it is incredibly great reward for me.
So how does it work?
There was a daily routine in the place and specific responsibilities were there to each intern. Picchio staff members were responsible to release and miss capture bears as soon as possible. I got chance to join and that was very interesting experience for me. At the same time we took measurements, collected blood samples, hair samples and other morphological data and climatic data of the area. On our way to field trips, members of Picchio shared their experiences and knowledge about wildlife in surround area. Also we discussed human wild life conflict issues in Sri Lanka as well. In this internship, I could grab a lot of knowledge about Japan wildlife, their research techniques and also the culture. In Picchio, I met with an accident and that time they helped me a lot and I give my special thanks to all the staff members there. In Autumn, I visited it in my second time and at that time the place was very beautiful and colorful. At that time I got different experience and knowledge about behaviors of bears and research works. Night patrols were ver y interesting and enjoyable. I gained unforgettable experience and knowledge for my life during this internship. There is no dull moment in the Research Center and I have initially stayed for 10 days and I felt it was not long enough and I was not yet ready to say goodbye to that beautiful place.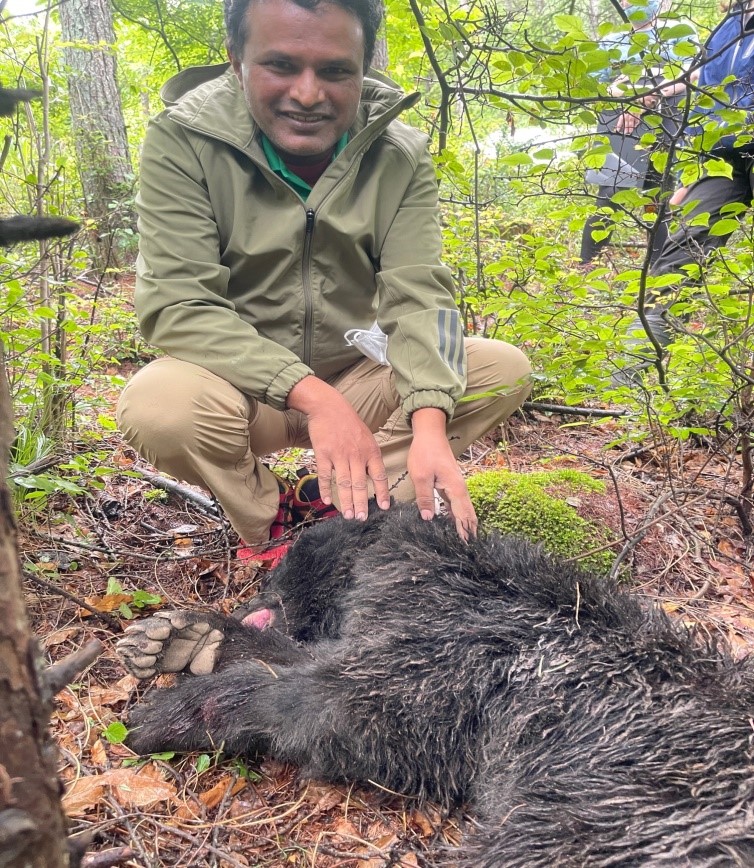 With miss capture bear in forest
Photo: Amelia Hiorns (Picchio Wildlife Research Center)